The Hand & Wrist Center
3918 Long Beach Boulevard, Suite 100
Long Beach, CA 90807
Phone: (562) 424-9000
Monday - Friday: 8:00 a.m.–5:00 p.m.

Am I a Candidate for Needle Aponeurotomy?
Not all patients presently living with Dupuytren's Contractures (Disease) are potential candidates for the Needle Aponeurotomy procedure. The relative severity and progression of a contracture present in the hands will predominantly determine whether or not a patient can be considered an ideal candidate for in-office treatment. In general, appropriate candidates for Needle Aponeurotomy are usually those with isolated cords that cause contracture across the proximal metacarpophalangeal (MP) joint. Certain patients with proximal interphalangeal (PIP) or middle joint contractures may also benefit from this procedure. The only definitive way to determine if you are an eligible candidate is to present to our office for a face-to-face consultation with our Physician. During your in-office consultation, our Physician will fully discuss with you the nature of your condition, the procedure, its risks and benefits, and all other associated factors.
To facilitate care for (out of town) patients visiting our Office, an initial consultation via email ("e-consult") may be appropriate. For your e-consult, our Office will require that you send us digital images (photographs) of the affected hand and well as a completed Dupuytren's Questionnaire, which can be downloaded in our Patient Resources – Patient Forms section. Upon receipt of your information, our Physician will review the images of your hand, as well as factors presented in your questionnaire, and provide an informal, non-binding opinion regarding whether you would be a candidate for this procedure.
The following images are useful examples of photographs that should be sent to our Office for review via email. Photos can be taken with most digital cameras with medium or low resolution.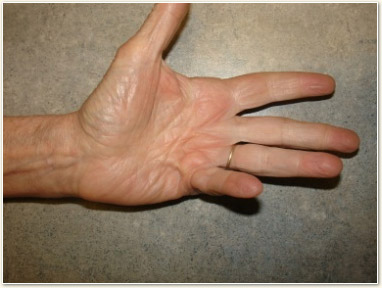 Palm up

Lateral view

Table-top view

Palm down
If you would like to contact Dr. Nathan to determine whether you are a candidate for Needle Aponeurotomy, request a consultation, or contact The Hand & Wrist Center at (562) 424-9000.
Back to Top